Beth Collins, M.D.
2614 Boston Post Road
Willow Hall, Suite 16C
Guilford, CT 06437
Phone: (203) 689-5295
Monday–Friday: 9:00 a.m.–5:00 p.m.

Beth Collins, M.D.
55 Willow Street
Mystic, CT 06355
Phone: (860) 572-6868
Monday–Friday: 9:00 a.m.–5:00 p.m.

Dermal Fillers
If you've noticed lines around your mouth and nose or diminished volume throughout your face, you're not alone; these are very common signs of aging. Board-certified plastic surgeon Dr. Beth Collins offers a variety of dermal fillers, including JUVÉDERM® and Restylane® products, in Guilford and Mystic, CT, to help women and men from New Haven and other nearby cities enhance and rejuvenate their appearance.
Dr. Collins and her team of nurse injectors have extensive training in aesthetic medicine and use the latest technology and techniques. This enables our team to customize treatments based on the aesthetic goals and needs of each patient. We strive to achieve natural-looking, long-lasting results.
To learn more about the JUVÉDERM® and Restylane® families of dermal fillers, please contact Dr. Collins' practice at her Guilford location at (203) 689-5295 or Mystic location at (860) 572-6868 or request a consultation to schedule your appointment today.
What Do Dermal Fillers Do?
Dermal fillers such as JUVÉDERM and Restylane are made of hyaluronic acid, a substance naturally produced by the body. It helps your skin look plump and youthful. As you age, your body produces less hyaluronic acid and breaks down the hyaluronic acid in your skin faster than you can replace it. At that point, wrinkles appear and your skin loses volume.
Dermal fillers replace the hyaluronic acid that your body has lost.
While both JUVÉDERM and Restylane dermal fillers are made from hyaluronic acid, there are some differences between the two families of injectable fillers. JUVÉDERM is the most popular dermal filler family, trusted for years to fill in lost volume and plump the skin and lips to improve the appearance of the face and body. Restylane dermal fillers are slightly different. They are gel-formulated dermal fillers that use interconnected molecules that stretch and move with your face, allowing for greater facial expression while maintaining the shape of the filler. During your consultation at Dr. Collins' practice, your provider will recommend the best dermal filler to suit your needs.
During your treatment, your provider will inject the appropriate dermal filler into the areas of your face where your skin has lost volume. She makes a series of injections, then carefully massages the area to make sure that the filler is evenly distributed.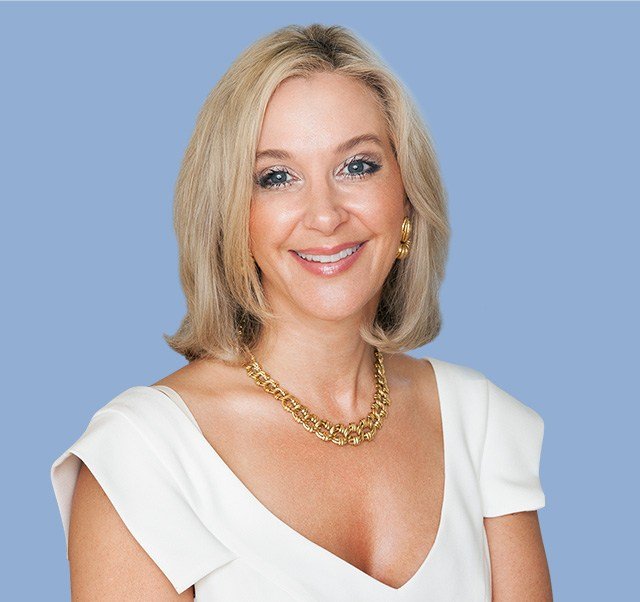 Beth Collins, M.D.
As a board-certified plastic surgeon, Dr. Beth Collins offers a blend of clinical expertise and warm, open communication to ensure beautiful results from your chosen procedure. Learn more about her experience and explore what she can do for you.
Meet Dr. Beth Collins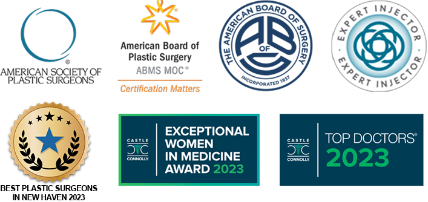 Who Should Get Dermal Fillers?
If you dislike certain signs of facial aging and want a non-surgical solution, you should consider dermal fillers such as JUVÉDERM and Restylane. Dr. Collins can use dermal fillers to:
Enhance and plump lips
Restore facial volume
Treat facial lines, folds, and wrinkles
Treat acne and other small scars
Enhance the shape of facial features, like the nose and chin
Because dermal filler injections will not cause pigment changes, they are approved for people of all skin types.
Allē

Saving money never looked so good.
Earn discounts on BOTOX®, JUVÉDERM®, and more of your favorite treatments and products when you join the Allē rewards program from Allergan Aesthetics™. Become a member today and start earning points at your next appointment with Dr. Collins. Signing up online is easy, fast, and free.
Learn More
Your Dermal Filler Options
When fillers such as JUVÉDERM first arrived on the market, a single product served as a workhorse and was used in most areas of the face. Since then, JUVÉDERM and Restylane have introduced specially formulated fillers that are designed for specific areas of the face. These advanced fillers produce natural-looking results when injected by experienced, highly trained providers. The options offered by Dr. Collins include:
JUVÉDERM VOLLURE® XC
At some point in our lives, wrinkles will become noticeable in our skin, whether it's through aging, genetics, or environmental causes. JUVÉDERM VOLLURE XC can help replenish volume in the skin, smoothing out wrinkles and parentheses lines. The JUVÉDERM VOLLURE XC formula contains lidocaine to assist in decreasing sensitivity for patients upon injection. The lidocaine can better assure that patients can feel comfortable as our medical staff administers this exciting dermal filler. To learn more about this exciting treatment, contact us today and schedule a consultation appointment!

JUVÉDERM VOLBELLA®
JUVEDERM VOLBELLA is a hyaluronic acid-based dermal filler. When injected into or near the lips, this product infuses the treated area with additional volume and fullness. But what sets JUVEDERM VOLBELLA apart from other dermal fillers is the fact that it is formulated using VYCROSS™ technology. This technology incorporates a combination of both low and high molecular weight technology to help hyaluronic acid chains blend with themselves and the skin tissues more efficiently.

JUVÉDERM VOLUMA® XC
JUVÉDERM VOLUMA XC is an FDA-approved filler that instantly restores volume to the cheek area. This new filler is an HA gel-based product that is injected with a small needle into the face providing the patient with an instant youthful look. As we age, we lose volume in our faces due to gravity and the loss of elasticity. VOLUMA offers a remedy to aging gracefully by restoring the lost volume. Patients who have received VOLUMA feel and look years younger while maintaining a natural look. This FDA-approved filler is the first HA filler that can last up to 2 years. Dr. Collins was the first doctor to inject VOLUMA in her Guilford, CT, office on the shoreline.
RESTYLANE® CONTOUR
Restylane Contour is a hyaluronic acid-based gel filler that is used to lift and restore volume to the upper cheeks. The thickest gel structure of all of the Restylane dermal fillers, it is designed specifically to restore volume to the cheeks and other areas of the face that have lost volume due to aging. The effects of Restylane Contour can last up to 12 months.

RESTYLANE® LYFT
Restylane Lyft has a thinner gel structure than Restylane Contour. It is used to enhance the cheeks, fill in lines and wrinkles around the mouth, and fill in lost volume on the hands. Restylane Lyft injections can last up to 6 months, depending on the treated area.

RESTYLANE® KYSSE
Restylane Kysse is the finest gel dermal filler in the Restylane family. It is designed specifically to treat lip lines and for use as a lip filler. Restylane Kysse is used for lip injections to achieve natural-looking lip augmentation to give you the perfect pout. Restylane Kysse lip injections can last up to 12 months.
How Long Do Dermal Filler Results Last?
The longevity of dermal filler results depends on the specific filler used. Patients see results for up to one year for most JUVÉDERM and Restylane products; VOLUMA results can last up to 2 years. Eventually, your body breaks down the hyaluronic acid and naturally clears it away.
Dermal Filler Recovery & Related Procedures
For the first 24 hours after your dermal filler treatment, you may wish to indirectly ice the treated area to reduce minor side effects like redness, swelling, or bruising. You are free to return to your regular activities with no further downtime.
Other non-surgical treatments such as BOTOX® Cosmetic and Dysport® (which are not facial fillers) can be used to treat signs of aging on the forehead and around the eyes. For long-term results, Dr. Collins can also perform a brow lift or facelift to achieve a more permanent correction of the signs of facial aging.
Patients considering dermal fillers from Essex, New London, and other cities along the shore can request a consultation online or call us at our Guilford location at (203) 689-5295 or at our Mystic location at (860) 572-6868 to book your visit.
Specials & Events
There's always something going on here at Beth Collins, M.D. Discover incredible savings on your favorite (and soon-to-be favorite) services or RSVP to an exclusive event.
Learn More
Important Reminders
Dr. Collins does not accept insurance.
There is a $150 consultation fee for surgical and injectable procedures with Dr. Collins.
The consultation fee is waived for injectable treatments if the procedure is performed on the day of your consultation.
There is a $50 consultation fee for consultations with our RNs.
Back to Top