Beth Collins, M.D.
2614 Boston Post Road
Willow Hall, Suite 16C
Guilford, CT 06437
Phone: (203) 689-5295
Monday–Friday: 9:00 a.m.–5:00 p.m.

Beth Collins, M.D.
55 Willow Street
Mystic, CT 06355
Phone: (860) 572-6868
Monday–Friday: 9:00 a.m.–5:00 p.m.

Forever Young BBL™ Photofacial
Looking for a non-invasive treatment that can improve the appearance of redness, skin discoloration, and sun damage with no downtime? You may want to consider the Forever Young BBL Photofacial at Beth Collins, M.D. in Guilford, CT.
To learn more about the Forever Young BBL photofacial, please contact the practice at our Guilford location at (203) 689-5295 or Mystic location at (860) 572-6868 or request a consultation to schedule your appointment today.
What is the Forever Young BBL Photofacial?
The Forever Young BBL Photofacial is a cosmetic treatment that helps women and men from New Haven, Madison, New London, Mystic, and other cities near Guilford combat the signs of aging, particularly those associated with vascular redness or sun damage. It harnesses the power of broadband light technology, or BBL, to target the underlying structures that cause this discoloration and destroy them.
How Does Forever Young BBL Work?
Forever Young BBL uses the power of gentle, targeted light to destroy structures that cause the signs of aging in the skin. What makes this Photofacial different from other laser rejuvenation treatments is the broad spectrum of light used. While laser treatments typically only use a single wavelength of light, Forever Young BBL Photofacials utilize several different wavelengths. These different wavelengths of light are absorbed by the blood vessels and excess pigmentation that cause vascular redness and discoloration, destroying them and the cosmetic problems they cause.

Allē

Saving money never looked so good.
Earn discounts on BOTOX®, JUVÉDERM®, and more of your favorite treatments and products when you join the Allē rewards program from Allergan Aesthetics™. Become a member today and start earning points at your next appointment with Dr. Collins. Signing up online is easy, fast, and free.
Learn More
What Can Forever Young BBL Treat?
While Forever Young BBL cannot eliminate wrinkles, fine lines, or scars, it can manage many other skin concerns, including:
Rosacea
Vascular redness
Sun damage to the face, chest, back, hands, and arms
Small spider veins
Broken capillaries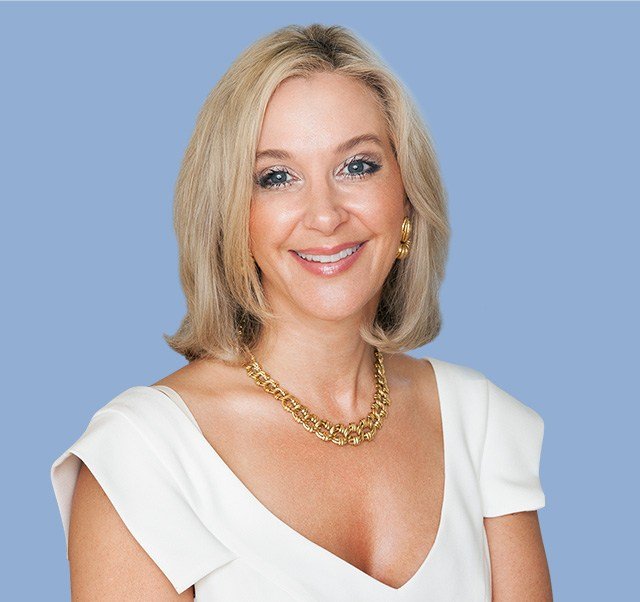 Beth Collins, M.D.
As a board-certified plastic surgeon, Dr. Beth Collins offers a blend of clinical expertise and warm, open communication to ensure beautiful results from your chosen procedure. Learn more about her experience and explore what she can do for you.
Meet Dr. Beth Collins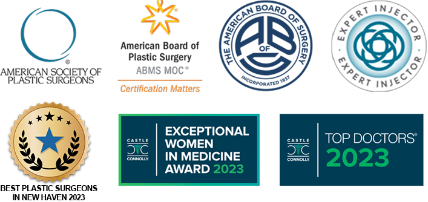 What Can I Expect From a Forever Young BBL Treatment?
Each Forever Young BBL treatment can last anywhere from 15-60 minutes, depending upon the size of the treatment area. Patients report that the procedure is relatively comfortable, feeling like a warm rubber band snapping against the skin.
Following treatment, redness similar to that of a mild sunburn is common, and usually last about 24-hours after treatment. Mild blistering and bruising sometimes occur but are less common.
Typically, Dr. Collins recommends that patients undergo somewhere between 3 to 5 treatments to see significant results. These treatments must be spaced 3 weeks apart.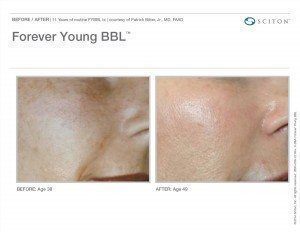 Who Is Not a Good Candidate for Forever Young BBL?
Individuals with sun-tanned skin, connective tissue diseases, autoimmune disorders, or pacemakers cannot receive Forever Young BBL treatments. Women who are pregnant or breastfeeding are also advised not to undergo the procedure.
If you'd like to find out if you're a good candidate for the Forever Young BBL Photofacial and live in Essex, New London, or surrounding cities, you can request a consultation using the online form. We can get you started by setting up a consultation appointment, during which Dr. Collins will take into account your cosmetic goals and medical history to help you decide.
Important Reminders
Dr. Collins does not accept insurance.
There is a $150 consultation fee for surgical and injectable procedures with Dr. Collins.
The consultation fee is waived for injectable treatments if the procedure is performed on the day of your consultation.
There is a $50 consultation fee for consultations with our RNs.
Specials & Events
There's always something going on here at Beth Collins, M.D. Discover incredible savings on your favorite (and soon-to-be favorite) services or RSVP to an exclusive event.
Learn More
Back to Top