Laser Hair Removal
Tired of shaving, waxing, or plucking your hair on a regular basis? Laser hair removal at Beth Collins, M.D. in Guilford, CT, can halt the growth of your unwanted hair in its tracks, either on a long-term or permanent basis.
Contact us today to schedule schedule your laser hair removal appointment or call (203) 689-5295.
Why Laser Hair Removal?
Laser hair removal is one of the fastest-growing cosmetic procedures in the United States today. And it makes sense why — the results of this procedure are long-lasting and sometimes even permanent.
Waxing, shaving, and tweezing are a tedious part of many people's aesthetic routines. On top of being time-consuming, waxing and chemical hair removers can often cause irritation and sometimes remove the uppermost layer of the skin. Laser hair removal does away with the hassle of being hairless, bringing our patients from New Haven, Madison, Mystic, New London, and surrounding areas long-term or even permanent hair reduction results.
How Does Laser Hair Removal Work?
Laser hair removal uses concentrated beams of light to target hair follicles. Once this light reaches the follicles, it's absorbed by pigmentation within the follicle as heat. Once absorbed, this heat either destroys or partially damages the follicle. Once a follicle is fully destroyed, hair can no longer grow from it. During each laser hair removal treatment, more and more follicles absorb heat and are destroyed, decreasing overall hair growth over time.
Using the BBL HERO® laser, which utilizes broadband light (BBL) technology, to treat areas of unwanted hair, Dr. Collins is able to treat larger areas of the face and body in less time. The treatment is painless and takes little time to complete.
What Areas Can Laser Hair Removal Treat?
This procedure can be used to remove hair on nearly any area of the body. The most commonly treated areas include:
Legs
Arms
Upper Arms
Upper lip
Bikini line
Chest
Back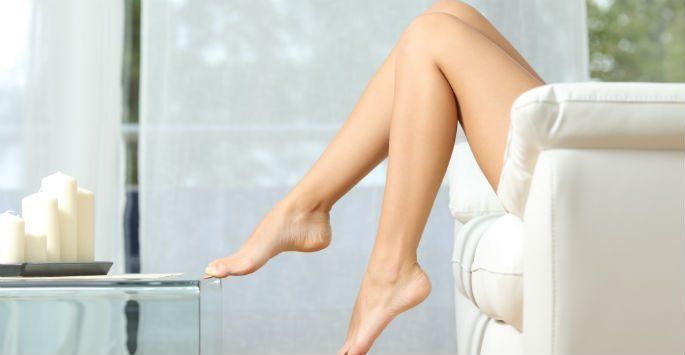 What Should I Expect From a Laser Hair Removal Procedure?
While laser hair removal procedures can be uncomfortable, there are a few measures you can take before treatment begins to ease any pain you might feel. Women are advised not to schedule hair removal treatments during menstruation, as the skin is typically more sensitive at this time. Avoiding caffeine before your treatment can help you feel more relaxed and at ease during the procedure. Topical numbing creams and painkillers can also make the experience significantly more comfortable.
The BBL HERO laser uses CoolComfort technology to cool the skin at the application site, allowing Dr. Collins to treat a large area while minimizing your discomfort.
The time each laser hair removal session takes depends on the areas being treated, as well as the extent of hair growth in those areas. In general, a session takes:
Upper lip and tops of ears: 8 to 10 minutes
Front of the neck or underarms: 20 minutes
Legs and back: 60 to 90 minutes
While the procedure itself can prove uncomfortable, patients typically experience little to no downtime after leaving our office. Dr. Collins recommends that patients undergo between 5 to 8 sessions for long-term hair reduction.
If you're interested in learning more about the many benefits of laser hair removal, have any questions, call Dr. Beth Collins at  (203) 689-5295 or request a consultation today.
Important Reminders
Dr. Collins does not accept insurance.
There is a $150 consultation fee for surgical and injectable procedures with Dr. Collins.

The consultation fee is waived for injectable treatments if the procedure is performed on the day of your consultation.
There is a $50 consultation fee for consultations with our RNs.
Back to Top