Beth Collins, M.D.
2614 Boston Post Road
Willow Hall, Suite 16C
Guilford, CT 06437
Phone: (203) 689-5295
Monday–Friday: 9:00 a.m.–5:00 p.m.

Beth Collins, M.D.
55 Willow Street
Mystic, CT 06355
Phone: (860) 572-6868
Monday–Friday: 9:00 a.m.–5:00 p.m.

AquaGold® Facial
AquaGold® is a facial treatment that delivers mini doses of BOTOX® Cosmetic, dermal fillers like JUVÉDERM®, PRP, and other skin care serums directly into your skin using ultra-fine, 24k gold needles. Dr. Beth Collins offers the AquaGold facial at her Guilford and Mystic plastic surgery practices to women and men from New Haven, Madison, New London, Mystic, and other nearby cities who are interested in a non-invasive skincare treatment that helps refresh and renew skin's appearance.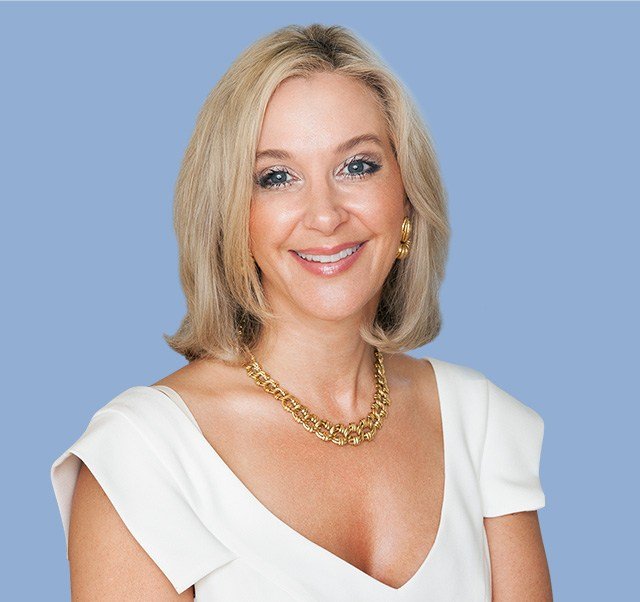 Beth Collins, M.D.
As a board-certified plastic surgeon, Dr. Beth Collins offers a blend of clinical expertise and warm, open communication to ensure beautiful results from your chosen procedure. Learn more about her experience and explore what she can do for you.
Meet Dr. Beth Collins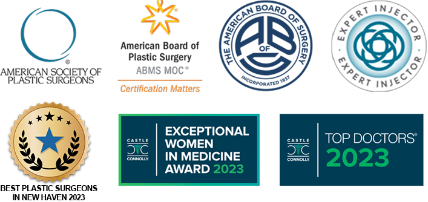 A Painless Way to Improve Skin
At her Guilford and Mystic, CT plastic surgery offices, Dr. Beth Collins offers AquaGold Fine Touch, a patented system that uses super fine gold-plated needles to inject skin rejuvenation products directly into the skin. Unlike mircroneedling, AquaGold is a micro-injection treatment that infuses the products directly into the skin. By using such fine needles, AquaGold allows skin serums, BOTOX, or dermal fillers to flow directly into the skin.
Thanks to the fine needles in the AquaGold device, there is no pain with the treatment and minimal redness at the treatment area. We are able to deliver sterile skin rejuvenation products directly to the skin, allowing for maximum absorption and minimal discomfort.
What Is The AquaGold Facial Used To Treat?
AquaGold can be used on the face, including the under-eye area, jawline, neck, and chest to improve skin's appearance.
When AquaGold is combined with skincare products and serums, it can be used to treat a variety of skin issues:
Reduce the size of pores with micro-doses of BOTOX Cosmetic
Smooth skin with micro-doses of JUVÉDERM
Skin lifting and tightening with PRP
Improve the appearance of acne scars with micro-doses of dermal fillers
Brighten and freshen skin with vitamin serum infusions
AquaGold is an effective treatment is great for improving the appearance of the skin under the eyes, reducing the size of pores on the nose and cheeks, reducing the appearance of lines on the neck and chest, and smoothing the appearance of skin on your face, neck, and jawline.
What Can Be Infused Into Skin with AquaGold?
Depending on your needs, skincare goals, and areas of treatment, there are several options for infusing skin rejuvenation products into the skin to improve its appearance.
Some of your options include:
Micro-doses of BOTOX® Cosmetic
Micro-doses of dermal fillers like JUVÉDERM®
Platelet-rich plasma (PRP)
Vitamin C and other vitamin serums
Your AquaGold Facial Treatment Experience
At the beginning of your AquaGold facial treatment, our licensed aestheticians apply a numbing cream to the treatment area. After the area is numb, the aestheticians then use the AquaGold device to gently "stamp" the skin. The customized skin rejuvenation solution is directly infused into the skin through the superfine needles, which are smaller than a human hair.
How Much Does an AquaGold Facial Cost?
The cost of a basic AquaGold treatment for the face using a hyaluronic acid serum at our med spa starts at $500. You can choose to upgrade your treatment by mixing in other substances, such as BOTOX, vitamin C, or platelet-rich plasma. The cost to incorporate treatment for the neck and décolletage starts at $250.
Results
There's no downtime, and AquaGold results are visible almost immediately after treatment. The refreshed, glowing skin from an AquaGold facial usually lasts 2-3 months, but the treatment can be repeated as often as once a month.
If you're interested in learning more about AquaGold, call Dr. Beth Collins at her Guilford location at (203) 689-5295 or at her Mystic location at (860) 572-6868, or request a consultation online.
Specials & Events
There's always something going on here at Beth Collins, M.D. Discover incredible savings on your favorite (and soon-to-be favorite) services or RSVP to an exclusive event.
Learn More
Back to Top