Beth Collins, M.D.
2614 Boston Post Road
Willow Hall, Suite 16C
Guilford, CT 06437
Phone: (203) 689-5295
Monday–Friday: 9:00 a.m.–5:00 p.m.

Beth Collins, M.D.
55 Willow Street
Mystic, CT 06355
Phone: (860) 572-6868
Monday–Friday: 9:00 a.m.–5:00 p.m.

Breast Augmentation in Mystic, CT
Board-certified plastic surgeon Dr. Beth Collins performs breast augmentation in Guilford and Mystic for women from New Haven to New London, and Essex, CT, and the shoreline areas who want a larger breast size to enhance their overall body proportion. Dr. Collins takes a special focus on this popular cosmetic procedure, along with many other cosmetic breast surgeries.
Contact Dr. Collins at our Guilford location at (203) 689-5295 or Mystic location at (860) 572-6868 or request a consultation online to learn more about how breast augmentation can help improve your appearance.
Breast Augmentation

Before & After Photos
WARNING:
This feature contains nudity. Please click OK to confirm you are at least 18 years of age and are not offended by such material.
The Basics of Breast Augmentation
Using breast implants filled with either cohesive silicone gel or saline, Dr. Collins can significantly increase your breast size. Many common benefits of breast augmentation include:
More feminine appearance
More clothing options
Improved confidence
Balanced proportions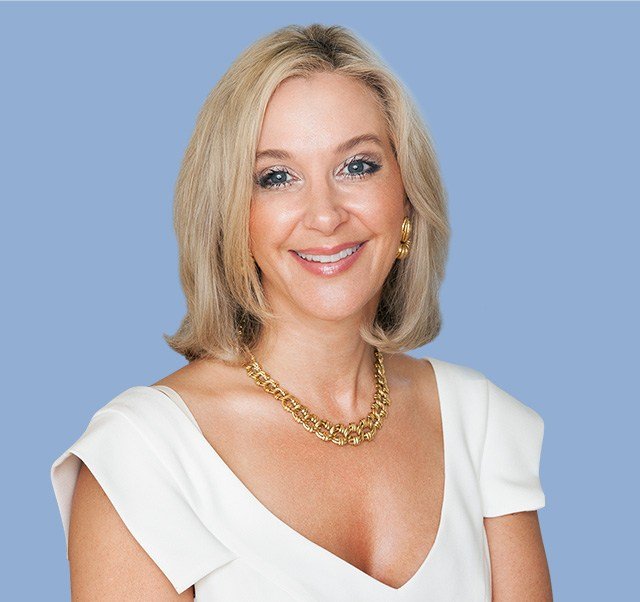 Beth Collins, M.D.
As a board-certified plastic surgeon, Dr. Beth Collins offers a blend of clinical expertise and warm, open communication to ensure beautiful results from your chosen procedure. Learn more about her experience and explore what she can do for you.
Meet Dr. Beth Collins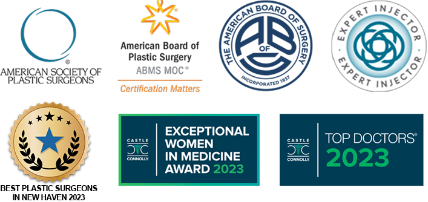 Who Gets Breast Augmentation?
An elective procedure such as breast augmentation is a choice you should make for personal reasons. Before making that choice, you should learn about the various risks, benefits, and expected outcomes of the surgery. Second, you should be realistic in your expectations. Like any surgery, the best results are achieved when the patient is both physically and mentally healthy.
The most common reason for surgery is simply dissatisfaction with small breast size. But there are other indications that are more restorative in nature. For example, it may be used for the correction of breast asymmetry or restoration of breast fullness after weight loss.
Breast Implant Options
If you are considering breast augmentation, it is important to understand your options for breast implants. Some factors to consider when choosing breast implants include:
Implant material
Breast implants are available in 2 main types of materials: saline and silicone. Saline implants are filled with a sterile saltwater solution, while silicone implants are filled with cohesive silicone gel. Silicone implants tend to feel more like natural breast tissue, but both types of implants are safe and effective.
Implant profile
Implant profile refers to how much the implant will project from the chest wall. Implants are available in low, moderate, high, and ultra-high profiles. The profile you choose will depend on the look you want to achieve and your individual anatomy.
Implant placement
Implant placement refers to the location of the implant in the breast. Implants can be placed either above, partially below, or below the chest muscle.
Dr. Collins can help you understand the advantages and disadvantages of each option and create a personalized treatment plan that meets your unique needs and goals.
Breast Augmentation vs. Breast Lift
Whereas breast augmentation uses implants to increase breast size and volume, a breast lift raises and reshapes sagging breasts. A breast lift creates more youthful-looking breasts by removing excess skin and tissue and repositioning the areola for a perkier look.
The decision to undergo breast augmentation or a breast lift depends on your needs and goals. If you want to increase the size of your breasts, improve their shape or symmetry, or restore volume lost due to pregnancy or weight loss, breast augmentation may be the right choice. If, however, you have sagging breasts that have lost their shape and firmness, a breast lift may be more appropriate.
For some patients, a combined approach is more appropriate. This is especially true for women who want to increase their breasts' size and improve their shape and position. Pairing these procedures allows you to enjoy a more comprehensive and satisfying outcome.
Commonly Combined Procedures
Breast augmentation can be combined with other cosmetic procedures to enhance your results. Some commonly combined surgeries include:
Breast Lift: A breast lift with implants is popular among women who want to improve the size, shape, and position of their breasts.
Liposuction: Liposuction removes excess fat from different parts of the body, including the abdomen, hips, thighs, and arms. This procedure is often combined with breast augmentation to create a more balanced and proportionate body shape.
Tummy Tuck: Tummy tuck surgery removes excess skin and fat from the abdomen and tightens the underlying muscles. It can be combined with breast augmentation to address both breast and abdominal concerns, especially after pregnancy or weight loss.
Mommy Makeover: A mommy makeover is a combination of procedures designed to restore a woman's body to its pre-pregnancy state. It typically includes breast augmentation with lift, liposuction, and tummy tuck. This comprehensive approach helps women regain their pre-baby bodies and boost their confidence.
What Happens During Breast Augmentation Surgery?
When Dr. Collins performs breast augmentation, she first chooses an appropriate technique based on the patient's goals and unique anatomy. Each patient has a variety of breast implants to choose from in Guilford. Saline-filled implants have been popular for many years, but many women are now choosing silicone gel because they believe the implants look and feel more natural. During your consultation, you can discuss the merits of different types of implants with Dr. Collins.
Surgery is typically performed using general anesthesia. The operation takes 1 to 2 hours to complete. Dr. Collins will make a short surgical incision on your body to insert the breast implant centrally below the nipple. There are several incision techniques in breast augmentation. Possible locations include the following:
Beneath the breast
In the underarm
On the lower edge of the areola
With all incisions, the goal is to minimize the visibility of the surgical scar. Beneath the tissue, your breast implants can be placed above, below, or partially below the chest muscles.
Once the breast implants are properly situated, Dr. Collins will close the incisions with sutures and cover them with adhesive or surgical tape.
Breast Augmentation Recovery & Results
You may be discharged the same day as your surgery, and within 24 hours, you should be able to walk around.
Total recovery time is about 1 to 2 weeks.
Within 10 days, your sutures can be removed.
Discomfort or pain during recovery is managed with prescription medication.
Dr. Collins may advise you to wear a special bra designed to provide extra support after cosmetic breast surgery.
Beyond the recovery period, regular exams are recommended to ensure the integrity of your breast implants. Today's breast implants are advanced medical devices, which are designed to last a very long time. However, unexpected complications can occur, and future revision surgery may be necessary. Dr. Collins will explain possible complications during your consultation.
If you're ready to discuss the details of your own breast augmentation in the Guilford, New Haven, New London, and shoreline areas, we're ready to help. Request your consultation online or call our office at our Guilford location at (203) 689-5295 or Mystic location at (860) 572-6868 to get started.
Financing Available
It's all within reach. Browse our financing options to help you pay for surgery on your terms and achieve your goals in less time.
Learn More
Important Reminders
Dr. Collins does not accept insurance.
There is a $150 consultation fee for surgical and injectable procedures with Dr. Collins.
The consultation fee is waived for injectable treatments if the procedure is performed on the day of your consultation.
There is a $50 consultation fee for consultations with our RNs.
Frequently Asked Questions
Q: Will I have to replace my breast implants?
While breast implants are not guaranteed to last a lifetime, they can last for many years. The typical lifespan of breast implants is about 15 years, although they often last longer. Scheduling regular check-ups with your plastic surgeon helps them monitor the condition of your implants.
Q: What if I want to change the size or material of my implants later?
If you want to change the size or material of your implants later, you can discuss your options with your surgeon. They can evaluate your current situation and help you decide on the best course of action.
Q: Can I breastfeed with implants?
It is possible to breastfeed with implants. However, the placement of the implants may affect milk production, and the incisions made during surgery could potentially damage milk ducts. It is important to inform your surgeon if you think you may breastfeed in the future so that your treatment plan can be designed accordingly.
Q: Will my breasts feel natural?
While breast implants enhance the appearance of the breasts, they may not feel entirely like your own breast tissue. The feel of the implants will depend on the type of implant chosen, the placement of the implant, and the amount of natural breast tissue present.
Q: Is the surgery painful?
Breast augmentation surgery is typically performed under general anesthesia, so patients do not feel any pain during the procedure. After the surgery, you may experience some discomfort, swelling, and bruising. Your surgeon can prescribe medication to help manage any pain or discomfort.
Back to Top