Beth Collins, M.D.
2614 Boston Post Road
Willow Hall, Suite 16C
Guilford, CT 06437
Phone: (203) 689-5295
Monday–Friday: 9:00 a.m.–5:00 p.m.

Beth Collins, M.D.
55 Willow Street
Mystic, CT 06355
Phone: (860) 572-6868
Monday–Friday: 9:00 a.m.–5:00 p.m.

Eyelid Surgery in Mystic, CT
Eyelid surgery is performed on eyes that are marked with drooping upper eyelids or puffy bags below the eyes. The procedure can also be referred to as blepharoplasty, or the eyelid lift. By reviving the area around the eyes, eyelid surgery performed in Guilford and Mystic by Dr. Beth Collins helps people from New Haven to New London, CT, transform their appearance.
Contact Dr. Collins at our Guilford location at (203) 689-5295 or Mystic location at (860) 572-6868 or request a consultation online to learn more about how eyelid surgery can help improve your appearance.
Who Should Get Eyelid Surgery?
In most cases, individuals who seek eyelid surgery have conditions such as
Droopy, baggy eyelids
Puffy bags below
Stretched, loose eyelid skin
The eyelid skin has often times stretched thin because of the drooping. Those who want to eliminate crow's feet or the dark circles under their eyes should, however, look to procedures like the brow lift or BOTOX® Cosmetic, as eyelid surgery does not treat these conditions.
What Does Eyelid Surgery Do?
Prior to surgery, you may need to arrange a medical evaluation and vision test in order to confirm that you are a good candidate for eyelid surgery. The procedure is done on an outpatient basis, usually with local anesthesia to numb the area around the eyes.
Your surgeon will make incisions along the natural lines of your eyelids: in the creases of the upper eyelids and below the lashes in the lower eyelids. Next, she will separate the skin from the underlying tissue and muscles, then remove or reposition the fat, and trim the sagging skin. The incisions are then closed with fine sutures.
Depending on your anatomy and needs for surgery, your surgeon may use the transconjunctivital technique in which an incision is made in the lower lid. In these cases, no skin and only a conservative amount of fat is removed.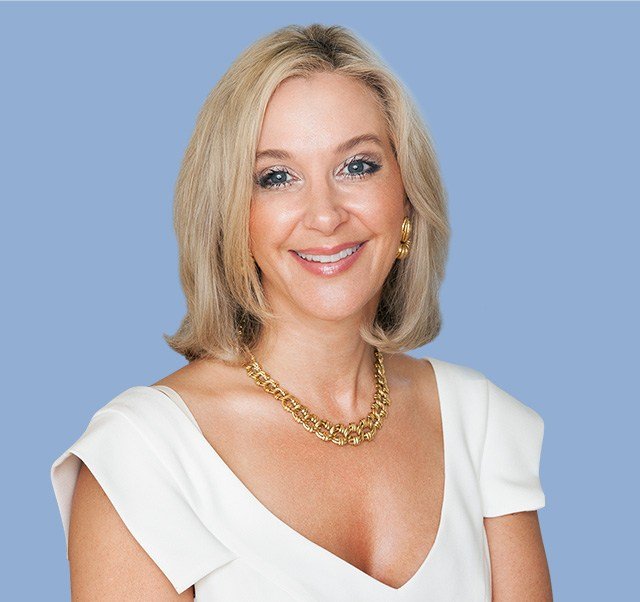 Beth Collins, M.D.
As a board-certified plastic surgeon, Dr. Beth Collins offers a blend of clinical expertise and warm, open communication to ensure beautiful results from your chosen procedure. Learn more about her experience and explore what she can do for you.
Meet Dr. Beth Collins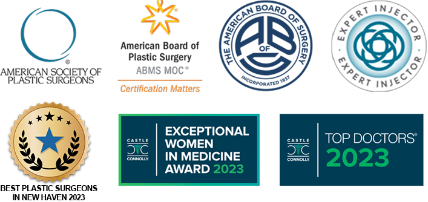 After Eyelid Surgery: What Should I Expect?
For the first days after surgery it is important that you follow Dr. Collins' postoperative instructions. She may advise you to keep your head elevated, use cold compresses to reduce swelling and bruising, and avoid wearing contacts for about two weeks. Recovery for eyelid surgery is estimated at about 10 days.
Financing Available
It's all within reach. Browse our financing options to help you pay for surgery on your terms and achieve your goals in less time.
Learn More
For more information about eyelid surgery, please request a consultation at our Guilford and Mystic, Connecticut, plastic surgery offices at our Guilford location at (203) 689-5295 or Mystic location at (860) 572-6868 . Our office is conveniently located to serve residents throughout the New Haven County, including East Haven and Madison.
Important Reminders
Dr. Collins does not accept insurance.
There is a $150 consultation fee for surgical and injectable procedures with Dr. Collins.
The consultation fee is waived for injectable treatments if the procedure is performed on the day of your consultation.
There is a $50 consultation fee for consultations with our RNs.
Specials & Events
There's always something going on here at Beth Collins, M.D. Discover incredible savings on your favorite (and soon-to-be favorite) services or RSVP to an exclusive event.
Learn More
Back to Top