Beth Collins, M.D.
2614 Boston Post Road
Willow Hall, Suite 16C
Guilford, CT 06437
Phone: (203) 689-5295
Monday–Friday: 9:00 a.m.–5:00 p.m.

Beth Collins, M.D.
55 Willow Street
Mystic, CT 06355
Phone: (860) 572-6868
Monday–Friday: 9:00 a.m.–5:00 p.m.

Facelift
Growing old is a privilege, but looking older than you feel can be an annoyance. Men and women considering facelift come to Guilford from New Haven, New London, West Hartford, Mystic, and other Connecticut cities because they've done their research and decided that Dr. Beth Collins is the best fit for them. Here, learn about her specialized approach to all parts of the facelift experience and her commitment to your long-term satisfaction.
Contact Dr. Collins at (203) 689-5295 or request a consultation online to learn more about how a facelift can help improve your appearance.
The Basics of Facelift Surgery
Loved by patients for decades, the traditional facelift is the ideal option for treating aging of the mid and lower face. Throughout the years, facelift protocol has advanced quite a bit, leading to today's refined methods. Previously, facelift surgery was sometimes associated with an overly tight or windblown appearance. This is because the surgery was relatively superficial and focused mainly on pulling the skin in a lateral (sideways) direction. However, today's surgeons employ a variety of techniques that manipulate the deeper tissues of the face to create a lifted, yet still natural-looking, result. Some skin improvement is also part of today's facelift, but re-creating youthful contours is the focus.
Facelift Candidates
A facelift is appropriate for men and women alike, and there's no ideal age to undergo the procedure. Instead, candidacy is determined on a case-by-case basis. However, you may benefit from the surgery if you're bothered by any of the following symptoms:
Sagging jowls
Deep facial folds
Flattened or hollow cheeks
Loose skin along the lower face or neck
Fat around the neck
Other qualities that make for a good candidate are overall mental and physical health, a clear idea of the intended outcome of surgery, and realistic expectations. In some cases, you and Dr. Collins may determine that you're actually a better candidate for another procedure, such as brow lift or BOTOX® Cosmetic.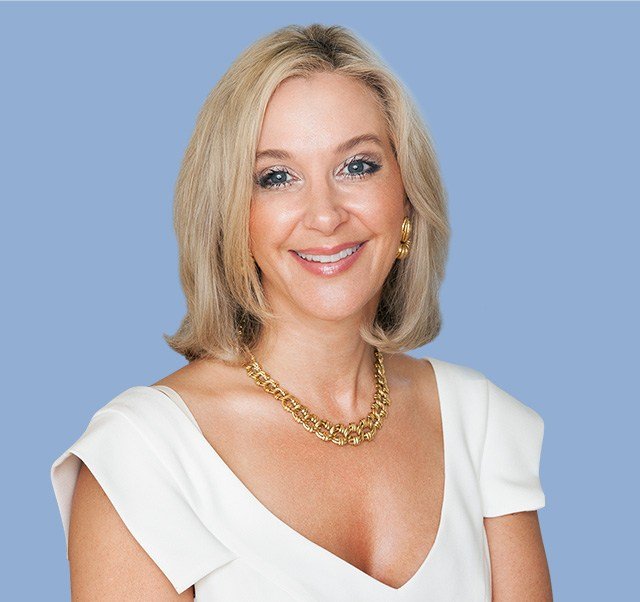 Beth Collins, M.D.
As a board-certified plastic surgeon, Dr. Beth Collins offers a blend of clinical expertise and warm, open communication to ensure beautiful results from your chosen procedure. Learn more about her experience and explore what she can do for you.
Meet Dr. Beth Collins

What Happens During Facelift Surgery?
Dr. Collins almost always performs facelift surgery while you are under general anesthesia. She begins by making an incision above the hairline at the temples, following the natural contour of the hair to the front of the ear, around the earlobe, and into the lower scalp. She accesses the underlying muscles and other tissues of the face through these incisions. She then gently re-drapes the skin over the underlying tissues, removing any excess, then closing the incisions with sutures.
In cases where the neck is also to be rejuvenated, Dr. Collins uses a small incision beneath the chin to access to tissues of the neck, contouring them and tightening the skin as well.
The typical facelift requires between 2 and 3 hours to complete, and patients may return home the same day after a brief period of observation.
Financing Available
It's all within reach. Browse our financing options to help you pay for surgery on your terms and achieve your goals in less time.
Learn More
What Can I Expect After a Facelift?
After surgery, you may experience some symptoms including numbness, swelling, and discomfort as your face heals. These go away on their own within a few weeks. Keeping your head elevated as much as possible, including when you sleep, can mitigate swelling during recovery.
How Long Is Recovery From a Facelift?
It's a good idea to plan to take about 2 weeks away from work and normal social engagements after facelift surgery. This allows your incisions to heal fully and any residual bruising and swelling to dissipate.
How Long Do Facelift Results Last?
The results of your facelift have the potential to last for more than a decade, especially if you protect your skin from the sun, refrain from smoking, and practice other healthy habits.
Are you ready for your facelift here in Guilford with board-certified plastic surgeon Dr. Beth Collins? Request a consultation online, or give the office a call at (203) 689-5295.
Important Reminders
Dr. Collins does not accept insurance.
There is a $150 consultation fee for surgical and injectable procedures with Dr. Collins.

The consultation fee is waived for injectable treatments if the procedure is performed on the day of your consultation.
There is a $50 consultation fee for consultations with our RNs.
Specials & Events
There's always something going on here at Beth Collins, M.D. Discover incredible savings on your favorite (and soon-to-be favorite) services or RSVP to an exclusive event.
Learn More
Back to Top